The "Decalogue of Values" project is created by a team of people who is constantly growing as the next editions in the countries are implemented. The creator of the project is Agnieszka Pietruszka from Poland, who has linked her professional life to the media with radio and television. Under the influence of personal experience and long search, after the implementation of the first edition in Poland (2012), she decided to implement the project on all continents of the world. She started with Africa (Zanzibar 2019).
WHY A DECALOGUE OF VALUES WAS CREATED?
I am implementing this project for everyone who has noticed that they are not happy and ask themselves, What is important in life? What should be guiding us?
Are there any timeless values? Lost in everyday life, we even lost the desire to ask ourselves what should we be like? There are fewer and fewer people and sources in which we can seek answers. This project is a return to the roots, to valuesthat let you get up in the morning with a smile and peace. For what is really important in my life, I decided to ask those who do not have to prove anything. People known and respected in their environments that already have a distance to live and see them from the right perspective.
I hope that they will be a conversation of different generations and different cultures and will reveal what I deeply believe – one common human nature and values that are beyond all differences, recorded in the frame and word of the interviews. I hope very much that in the joint implementation of the project, to which I invite all those interested, the worldwide exhibition of the Decalogue of Values, composed of 18 countries and 180 characters, will be an event that reveals "It" what connects people in the world, irrespective of what they do, who they are, under what latitude they live.
Thanks to all those who have joined the project so far and those who will want to accompany him.
Agnieszka Pietruszka – author of the project
The project is open. We invite companies, institutions and individuals who want to co-create it, recognizing that this international journey through the world of culture and values is worth attention.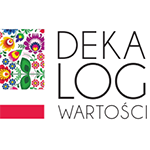 POLISH TEAM
Interwiev/Production  AGNIESZKA PIETRUSZKA
Photographer  ANDRZEJ WIKTOR
Photographer's assistant  BOGDAN KALISZ
Graphic design  Remigiusz Skomro
Make up  EDYTA CHOMKA
PHOTOGRAPHY   Andrzej Wiktor, author of photography known as a portraitist of souls, in a way familiar to himself, has grasped in the frame of his photos, a certain truth about people.
Andrzej Wiktor  author of photos. While taking photographs, I assumed, that the means of expression should be curbed to the bare minimum. Eclecticism is a notion, which perhaps in the best way reflects the character of these photography. Black background, against which I portray my protagonist, has as its goal to augment the focus of viewer on the face of portrayed person. One can get the expression that it is only that person that counts, these subtle emotions painted on face, the passing grimace, which instantly is spotted by camera. Peace and the moment, when "the gateways of soul unfold" impart a specific colour to the photographs.
Join us … travelling and discovering culture, people and yourself